Nov 9 2020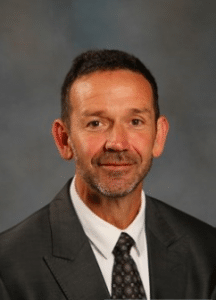 Good day,
My name is Tom Callahan and I am honored to have been chosen to assume the role of acting CEO of Futuraskolan. I am the proud father of Cassandra and Julius (ages 16 and 18) and live with them in Tyresö. During my free time I like to go running, I am a scuba diving instructor so I love to scuba dive and I am a huge Seattle sports fan.
My role in the organization is to develop the various groups in the community (parents, students and teachers) so that we together can provide a vibrant and stimulating environment where students can achieve their goals in relation to the Swedish National Curriculum. Our aim is to provide a safe and welcoming learning environment where students are valued and challenged. My ultimate aim is for all the students in the organization to leave grade 9 with a reason to feel proud of themselves.
My motivation mainly comes from my schooling many years ago. For a few of my teenage years, school and I did not agree with each other. I had family and personal events outside of school that were very impactful to me and made me question my personal value. Luckily, I had a few adults who never gave up on me, who were firm yet gentle in their handling of me, and who instilled in me the belief that I could go wherever my wishes took me as long as I was willing to take the steps to get there. This inspired me to go into teaching. I will never forget when, as a student in teachers college, I was assigned an inner city school group in America to work with. Many of these students were from disadvantaged homes and one thing that I saw was a key component of their success was how much I proved to them that I believed in them. I left this teaching assignment with a clear belief that I still hold to this day, that sometimes the only thing a person needs to start on the road to success is for someone to believe in them.
I will be employing this philosophy every day in the various schools and preschools in the organization. By looking for student success, leading the staff by introducing them to new learning theories and models of instruction and holding parent seminars where we can share our common ideas and perspectives about the development of the respective schools and preschools I hope to foster a vibrant and cooperative learning organization that is both student centered and ambitious in scope. My ultimate aim is to develop the community so that we are working together towards a common goal. This goal is student growth through academic achievement.
You will be able to find me in front of the schools or preschools in the mornings greeting the students as they arrive, in my office during the day, or by mail or phone outside of normal working hours.
We have a progressive and dynamic organization built on an amazing teaching staff and an engaged and supportive group of parents.
I encourage you to come have a look around, try our lunch in one of our fine lunchrooms, and see our spectacular teachers and students at work. Or, stop by for a coffee and a chat with me here at headquarters.
Your perspective is important to us so please make your opinion known. Then we are better able to share in our common goal of developing productive and capable future world citizens.
Have a fantastic afternoon!
Sincerely yours,
Tom Callahan